Leicester social workers suspended after baby attack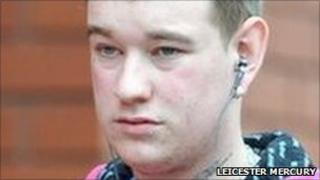 Three social workers have been suspended for disregarding warnings about a father who later attacked his baby and left her brain damaged.
Zak Whitlock was allowed to return to the family home in Wigston, Leicester, even though the risks had been discussed at a case conference.
The social workers, including one manager, have been suspended on full pay following a serious case review.
Whitlock, 21, was jailed for assaulting the seven-week-old in February 2009.
He is serving an indefinite sentence, with a minimum four-and-a-half-year term, after being convicted of grievous bodily harm with intent.
During his trial, medical experts said he had shaken his daughter and hit her against something hard and flat, leaving her with a grossly misshapen head.
The inquiry, held by the Leicestershire and Rutland Local Safeguarding Children Board, was told that the baby, known as Child B, was admitted to hospital four times before this.
On one visit she had unexplained marks to her legs, while on another her ear and cheek were bruised.
The investigation also heard the social workers had been warned by a trainee probation officer that Zak Whitlock posed a risk to his child, but were too ready to listen to his problems and those of the child's mother, and ignored the needs of the baby girl.
Both parents abused drugs and were known to police, while Whitlock had a history of mental illness.
Gareth Williams, director of children and young people's services at Leicestershire County Council, said: "I would like to say straight away how sorry I am that this child suffered such tragic injuries.
"At the heart of this case was a serious error of professional judgment made by social care professionals, which was made whilst working with very difficult adults.
"This is a very serious case and in the light of that we have suspended three members of staff and rigorous disciplinary procedures are ongoing."
Mr Williams said his department, which includes 86 social workers dealing with 350 children, had now been restructured.
There are six other serious case reviews pending in Leicestershire which are due to be published in the near future.