Demolished Bowstring bridge site 'an eyesore'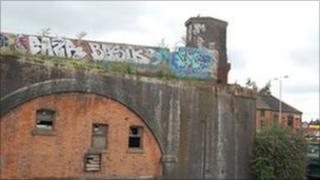 Campaigners who tried to save a Victorian bridge in Leicester have complained nothing has happened in the nine months since it was demolished.
The Bowstring Bridge was removed to make way for a new leisure complex to be built by De Montfort University.
The city's Civic Society is claiming the decision was rushed and wants to put up a plaque commemorating the structure.
The university and city council said work was going on behind the scenes.
Plans to remove the bridge and the neighbouring Pump and Tap pub provoked a petition, a failed attempt to get the bridge listed and even a sit-in protest.
Derek Hollingworth, of the civic society, said the area had been left a mess.
He said: "It is a total eyesore. We have got part of the viaduct still here, it is covered in graffiti.
"We have got the site where the pub was, there are still bricks here. They knocked it down in a week and then nothing has happened, it has just been cordoned off and left."
Regeneration investment
A De Montfort University spokesperson said the sports centre plans were on schedule.
He said: "We are currently preparing the application and expect to submit it in the autumn.
"There was a delay of four months due to the civic society applying to English Heritage to have the existing sports centre listed but this was dismissed in April.
"Although there has been no sign of activity on the site, a lot is going on behind the scenes and we look forward to building the new sports centre for use by members of the public and our students."
The city council said its plans for the other side of the bridge were dependent on securing regeneration investment.