Glider pilot in flying contest hurt in power line crash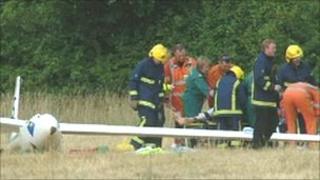 A glider pilot is recovering in hospital after his aircraft hit power lines and crashed on farmland in Northamptonshire.
The glider landed near Thornby, near the Leicestershire border, on Sunday close to the A5199.
Husbands Bosworth gliding centre confirmed the pilot had been taking part in a flying contest at the time.
The 48-year-old, from Hampshire, was later described as being in a serious but stable condition in hospital.
A power cut affecting about 287 homes was caused by the crash, but electricity was fully restored by 2040 BST, Central Networks said.
A flying club spokesman confirmed that the glider had been making a standard approach into a field when it hit power lines.
The pilot was cut free from the wreckage by the emergency services and airlifted to hospital in Coventry. He suffered burns and other injuries.
The Air Accidents Investigation Branch (AAIB) said it had been informed of the glider crash and would be investigating.