Protest after disabled centre users moved in Leicester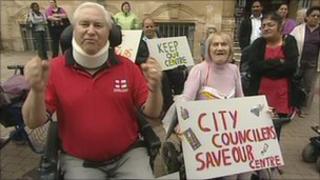 Dozens of disabled people have been protesting outside the town hall in Leicester after they had to stop using a day centre.
Users of the Douglas Bader Centre were told they could no longer go to the centre after a city council inspection flagged up a fire risk at the building.
Campaigners said they were now being housed in one room at the Brite Centre, which was not adequate for their needs.
The city council said that safety had to be the first priority.
'Lifeline'
Protesters say they have been given alternative accommodation at the Brite Centre for four weeks and fear they will be left with nowhere to go.
Campaign leader John Hargrave said: "It's vitally important and a lifeline to a lot of disabled users.
"It's a home from home a bit of everything - a resource centre, place of stimulation, education centre."
Marie Ratcliffe, who users the centre, said: "When I first started at Douglas Bader, I couldn't do anything for myself. I couldn't speak, use my hands but I can do everything now and I've made a lot of friends there."
A city council spokesperson said: "Our first priority is that users at the Douglas Bader Centre are safe which is why we had to remove the users from the centre and provide the service elsewhere.
"It may not be ideal but we have had to work on a very tight time scale and have found alternative arrangements very quickly so as not to disrupt the service users anymore than necessary."
The centre currently caters for 100 people.
The council is due to meet with campaigners on Wednesday.