iPad trial at Leicester City Council sparks union anger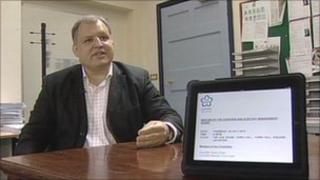 A union has criticised Leicester City Council for considering buying iPads for its councillors - despite planning up to 1,000 job cuts.
Four councillors are trialling the use of the hand-held Apple devices, which could be bought for all 54 councillors and some senior officers.
The city council has announced it has to find £100m in savings by 2015. Unison said the move was outrageous.
The council said the software could lead to future savings.
Printing costs
The city council announced last month that 1,000 jobs may go as it attempts to save £100m by 2015.
Buying iPads for all the councillors would cost about £40,000.
Gary Garner, from Unison, said: "They shouldn't even purchase them.
"They should start looking at cuts around public services and the £100m of savings they've got to make."
Councillor Ross Grant, who is taking part in the pilot scheme, said: "There's huge savings potentially in investing in some IT.
"It may be iPads, it may be something else, but we may have to spend up to 50 or 60 million pounds replacing the New Walk Centre.
"So if we could get a few hundred staff working from home using this kind of technology, then that's where we'd make huge savings."
The authority is currently looking at whether to carry out improvement work to remain at its headquarters at the New Walk Centre or to commission new headquarters elsewhere.
The council said the devices could save them £90,000 a year in printing and postage costs.