Racing returns to reopened Donington Park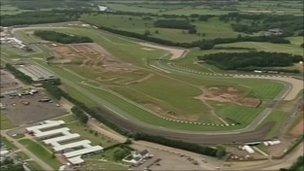 Racing is being held at a Leicestershire circuit which has been out of use for almost a year.
Donington Park was left unusable after a failed bid by the previous leaseholder to host Formula One racing.
Earlier this month the track passed a crucial safety inspection conducted by the motorsport authorities.
The track is hosting a three-day classic motorcycle race, which involves 400 bikes. It began on Friday and will finish on Sunday.
Donington Park has not been used since September last year after former leaseholder Simon Gillett, who ran Donington Ventures Leisure Limited, failed in his attempts to stage the British Grand Prix at the East Midlands venue.
Donington Park Limited, owned by Adroit Group, took over the track's lease in May, promising to invest £2m.
It has repaired the 2.5 mile (4 km) circuit and brought it up to the latest safety standards.
The first event at the track has been organised by the Classic Racing Motorcycle Club.
Related Internet Links
The BBC is not responsible for the content of external sites.