Firefighters tackle hotel blast in Melton Mowbray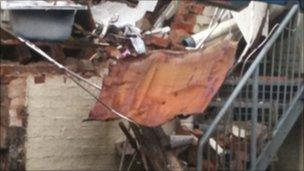 A Leicestershire hotel had to be evacuated after a water tank exploded.
Fire crews were called to the George on High Street in Melton Mowbray at about 1030 BST.
The exploding tank caused the rear of the building, which is used as private quarters, to collapse and several windows were blown out.
No-one was injured during the incident. The damaged area was cordoned off and people were allowed to go back inside the hotel on Saturday afternoon.
During the incident, firefighters had to rescue a dog from the first floor.
Nigel Alexander, crew manager at Melton Mowbray Fire Station, said: "Luckily it's been confined to the private quarters.
"The staff were all downstairs working at the time and most of the guests were out in the town area, doing shopping, and personal things really.
"I think they've been very lucky.
"If it had been a nice sunny afternoon like we'd had just recently, two o'clock with the football on, and people sitting in the beer garden it would have been a lot worse.
"There would certainly have been casualties."
Related Internet Links
The BBC is not responsible for the content of external sites.