Owner of Donington Park racing circuit takes back lease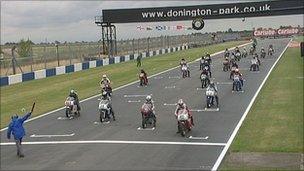 The owner of crisis-hit Donington Park racing circuit has taken back control of the venue.
The Leicestershire track held its first race of 2010 at the weekend after the Adroit group took over its lease and renovated the circuit.
Now the Wheatcroft family, which owns Donington and agreed a deal with Adroit in May, has confirmed it has taken the lease back.
It now wants to win back major events like the MotoGP and Superbike series.
Operation of the circuit has transferred from Worcestershire-based Adroit Group to Donington Park Racing Ltd (DPR).
DPR was set up in 1953 by founder Tom Wheatcroft and since 1970 has managed and promoted motor racing at the historic circuit though a number of leaseholders.
Current chairman Kevin Wheatcroft said: "I am delighted the option has been taken up for Donington Park Racing to once again operate the circuit.
"Racing at Donington is back and we can now ensure an exciting future for the circuit and the venue.
"I would like to personally thank the Adroit Group for their tireless efforts in helping to reopen Donington. We are delighted with the first stage of improvements."
Racing returned to Donington Park on 13 August after the circuit passed crucial safety inspections.
The track was left unusable after a failed bid by a previous leaseholder to host Formula One racing.
The Adroit Group repaired the 2.5-mile (4km) circuit and brought it up to the latest safety standards.
DPR said the next race meeting would be the Masters Classic Festival which will be held from 3-5 September.
Related Internet Links
The BBC is not responsible for the content of external sites.