Leicester digital arts centre 'needs cash boost'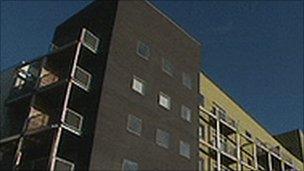 A new £21m arts centre in Leicester is faced with cash problems eight months after opening, its chairman has said.
Leicester Arts Centre Limited, which runs the cinema and gallery at Phoenix Square Arts Centre, is asking the city council for £250,000.
City councillors decided not to address the issue at a meeting on Monday and deferred the request until September.
The pressures of the economic downturn have forced the centre to look for more funding, chairman Ted Cassidy said.
Mr Cassidy said the centre was considering redundancies as a result of the difficulties.
He said poor attendance at the centre's cinemas since March has been problematic.
City council leader Veejay Patel said the postponement will "give the city councillors time to talk to key partners and further contribute to the development of a sustainable plan for Phoenix Square".
The digital arts centre, which has three cinemas and digital production facilities, is located on Morledge Street in Leicester's Cultural Quarter.
Related Internet Links
The BBC is not responsible for the content of external sites.