Budget cuts threaten rape centre in Leicester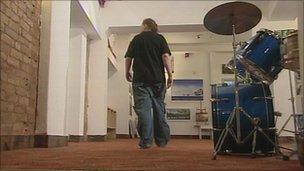 Staff at a charity helping victims of rape and sexual violence in Leicester fear possible funding cuts may jeopardise its future.
Jasmine House, previously known as Leicester Rape Crisis Centre, counsels about 60 women every week.
It costs £60,000 a year to maintain the centre, and £47,000 of that comes from Leicester City Council.
The council said it was having to make £100m of cuts by 2015 and all areas of spending had to be reviewed.
Cindy Allen, joint centre manager of Jasmine House, said: "Some women aren't functioning on any level. (They can experience) mental health issues, eating disorders, self harm.
"If they don't come to us where do these women go?"
The charity is now contacting all of the region's MPs to highlight its case.
City council deputy leader Vi Dempster said: "We are expecting to have to make huge budget cuts and this means reviewing everything we do.
"If we do have to cut our funding to Jasmine House it won't be because we don't value the work they are doing."
Leicestershire County Council provides over £10,000 of annual funding for the centre but is also facing £66m of cuts.
Related Internet Links
The BBC is not responsible for the content of external sites.