Oadby man takes medical aid to flood-hit Pakistan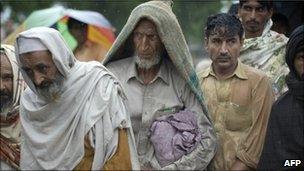 A man from Leicestershire has travelled to Pakistan to help with the country's flood relief effort.
Zuffar Haq, from Oadby, has taken two-and-a-half tonnes of medical equipment which he will distribute.
Mr Haq, trustee of Leicestershire organisation International Hospital Relief Trust, is flying with the aid donated by local people and groups.
Millions of people have been affected by the worst floods to hit Pakistan for 80 years and at least 1,600 have died.
Mr Haq said: "This is literally a drop in the ocean. We will need more supplies in order to help people.
"With the country devastated by floods and the very real threat posed by cholera, it is imperative that medical supplies are sent to the country immediately.
"Through the generosity of Leicestershire people and organisations, I have amassed supplies including tents, IV drips and vaccines.
"I am still appealing to pharmacies, pharmaceutical firms and hospitals as well as local organisations to contact me with aid."
Related Internet Links
The BBC is not responsible for the content of external sites.