Battle of Bosworth anniversary marked by re-enactors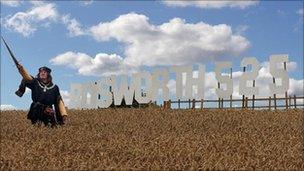 The 525th anniversary of the Battle of Bosworth has been marked by a special event.
The battle, fought in August 1485, ended decades of English civil war, now known as the Wars of the Roses.
A special anniversary re-enactment took place this weekend along with jousting and falconry displays.
Leicestershire County Council recently launched an international appeal to search for the descendants of soldiers who fought in the battle.
The Battle of Bosworth was one of the three most important battles fought on British soil.
King Richard III lost his life and crown to Henry VII and the Tudor dynasty was born.
Accounts suggest up to 28,000 soldiers fought in the battle.
A long-running debate over the true location of the battle prompted a £1m, four-year project to be set up.
Related Internet Links
The BBC is not responsible for the content of external sites.