Biker revived 28 times after crash in Leicestershire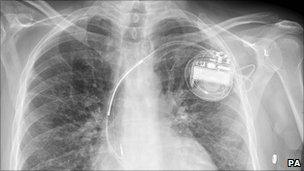 A biker whose heart stopped 28 times after a road crash in Leicestershire has thanked the doctors who saved him.
Steven Nixon, 44, from Allestree in Derbyshire, was on his motorbike in Husbands Bosworth when he was in collision with a car on 23 August 2009.
Mr Nixon suffered a massive heart attack while on his bike, fracturing his skull and breaking bones in his back and neck.
He had to be airlifted to University Hospital in Coventry for treatment.
Paramedics at the scene at Theddingworth Road near Honey Pot Lane revived Mr Nixon's heart five times.
A team of cardiologists at the hospital went on to save him a further 23 times.
Dr Dawn Adamson, a consultant cardiologist who treated Mr Nixon, said: "Steven is unusual because his heart developed a life-threatening rhythm disturbance that was not compatible with life which meant the trauma team could not treat his other injuries."
The medics began by taking a series of photographs of Mr Nixon's heart to pinpoint the problem.
Cardiologists then fitted a pacemaker to stabilise his heartbeat and repair a torn artery which had caused his heart to fail.
"It was only when he was in the cardiac catheter lab that we found the main artery in the heart was torn and his heart was receiving virtually no blood supply," said Dr Adamson.
A year after the accident, Mr Nixon said: "If it wasn't for the treatment I received at University Hospital, my family would not have a father or a husband.
"I cannot thank them enough or fault the superb care I received. They are a truly remarkable team of skilled, dedicated and compassionate people."
Since the accident Mr Nixon has undergone three operations, including a heart bypass.
No one else was injured in the crash.
Related Internet Links
The BBC is not responsible for the content of external sites.