Curry spice may attack cancer cells, research claims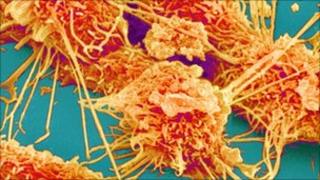 A common ingredient in curries could help target chemotherapy-resistant cancer cells, according to research being carried out in Leicester.
Scientists at the University of Leicester have been using curcumin - an extract of root turmeric - to target the cells.
They hope the ingredient will improve the effectiveness of chemotherapy.
It could also reduce the number of chemo-resistant cells, which will help prevent the disease returning.
Researchers at the university's Department of Cancer Studies and Molecular Medicine are using tissue from tumours extracted from patients undergoing surgery.
The aim is to use curcumin to target chemo-resistant cells in colorectal tumour tissue.
Colorectal cancer is the third highest cause of cancer deaths in the western world, experts said.
Dr Karen Brown said: "Previous laboratory research has shown that curcumin, from turmeric, has not only improved the effectiveness of chemotherapy but has also reduced the number of chemo-resistant cells, which has implications in preventing the disease returning.
"We hope that our work will lead to a better understanding of the mechanisms through which curcumin targets resistant cells in tumours."