EDL 'to defy' government ban on Leicester march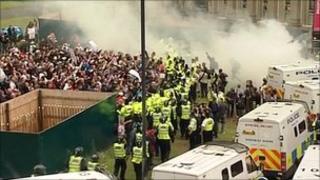 The English Defence League (EDL) says it plans to defy a government ban on a planned march by the right-wing group in Leicester.
Home Secretary Theresa May authorised the blanket ban on any rallies in the city on 9 October following concerns about public disorder.
A counter-demonstration was planned by Unite Against Fascism (UAF).
The EDL called the move an infringement of its human rights and said it would march on Saturday.
The ban was imposed after concerns were raised by Leicestershire Police's chief constable.
It prevents any group marching in the city on that date, but does not prohibit static protests, such as those that took place in Bradford in August.
'Freedom of speech'
EDL spokesman Guradit Singh called the government decision "a breach of freedom of speech" and "bang out of order".
He said the organisation would march, and added that it was withdrawing its liaisons with Leicestershire Police.
The Home Office said anyone who organises a prohibited march could be jailed for six months or face a £2,500 fine, while anyone found guilty of taking part in such a rally could be fined up to £1,000.
It also said the EDL had made similar threats in the past, but had not gone through with them.
A spokesperson for Leicestershire Police said: "We are keen to keep talking to everyone involved in order to facilitate lawful, peaceful demonstrations.
"However, we will be putting methods in place to gather evidence and prosecute unlawful behaviour should it occur."
Before the ban was announced, about 3,000 EDL members had been expected to attend the rally in the city, according to the group.