Leicester protests expected to cause 'major disruption'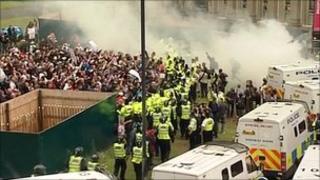 A large section of Leicester city centre will be closed to traffic on Saturday because of a planned protest by the English Defence League (EDL).
Police say they expect "major disruption" during the right-wing group's demonstration, when the eastern part of the city will be cordoned off.
A counter-protest by Unite Against Fascism (UAF) is also due to be held.
Marches are banned but the groups can still hold static demonstrations in Humberstone Gate East.
Road closures, staffed by police officers, will be in place from 0900 BST to 1800 BST.
The area affected is bordered by Belgrave Gate to the north and Granby Street to the south, extending as far east as the inner ring road, though the ring road itself will remain open.
Some bus routes will also be disrupted, so temporary stops are being set up in Belgrave Gate and Abbey Street.
The council has warned that the city centre will be more crowded than usual, particularly around Humberstone Gate, Belvoir Street and Charles Street.
Many protesters are expected to travel from outside Leicestershire, so buses and the city's railway station are expected to also be busy.
Police officers will be stopping and searching people on the day.
The Leicestershire force has urged people to "let them handle the event", and not to come into the city just to show opposition to the protest.
A map showing full details of the closures is available on the council's website.