Walkers experiments with crisp packets made of potatoes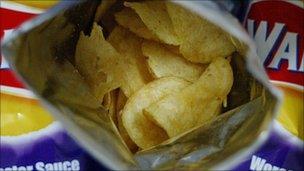 Recycled potato peelings could be used to make environmentally-friendly crisp packets, a leading snack firm has said.
Walkers said it had already developed cellulose crisp bags made from wood pulp - but this resulted in "crackly" bags that might put off customers.
The Leicester-based company hopes that bags made of starch waste from potatoes would prove more appealing.
Walkers, the UK's biggest crisp maker, is aiming to make packets out of peelings within 18 months.
Richard Evans, president of parent company PepsiCo UK, told BBC Radio 4's Today programme: "Imagine making it (a crisp packet) out of potato peelings.
"In reality, if you think about starch - and you know how sticky starch is - if you could mass it together you could create a layer of starch and stabilise that.
"We could use the peelings we have, that today go to animal feed and other recycling uses, to be turned into a crisp packets."
However, he said the firm was still experimenting with cellulose as it wanted to create bags that would naturally decompose.
The firm makes 10 million bags of crisps each day.
Related Internet Links
The BBC is not responsible for the content of external sites.