Badgers dig up human bones at Leicestershire church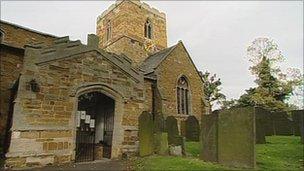 A Leicestershire vicar says badgers are digging up graves in his churchyard but he has been told he cannot move them.
The Rev Simon Shouler of 12th Century St Remigius Church in Long Clawson said badgers have dug up human bones three times in the past few weeks.
Mr Shouler, who has reburied the bones, is appealing for permission to have the badgers relocated.
Natural England and English Heritage told Radio 4's The World at One they had refused as badgers are protected.
Tim Hill of Natural England said: "We fully share Rev Shouler's concerns and are committed to finding a workable solution that properly protects the graveyard and the nearby ancient monuments without compromising the welfare of the badger population.
"Along with English Heritage, we have been concerned that (moving the badgers) could actually make the problem worse, creating further disturbance to the graves as well as further damage to the historic moat wall."
He said they were trying to develop a long-term solution to an "understandably distressing" situation.
Mr Shouler told The World at One programme: "We have had bones dug up three occasions this year and we are unable to stop the badgers.
"One father came to me and said, 'my lad has brought me sticks that look like bones but I know full well they are bones' - and bones they were.
"We are being made… to provide habitats for bats and badgers. We are being made to have animals in the church when we don't really want them there."
English Heritage said it was a complex issue but it was trying to "strike a balance between the welfare of wildlife and the preservation of human remains and ancient monuments".
Mr Shouler said: "They want us to carry on monitoring the situation - but we have monitored it all summer and we know there is a problem.
"They are lovely creatures - but we shouldn't expect people to share their grave with one… the real question is should we be protecting badgers?"
The cemetery was used for burials for about 800 years until its closure in 1910.
Related Internet Links
The BBC is not responsible for the content of external sites.