Coroner criticises care received by woman with bedsores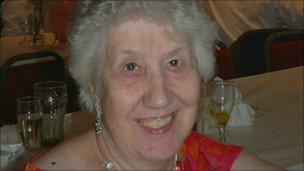 A 72-year-old Leicester woman died from infected bedsores even though she was under the care of community nurses, an inquest has heard.
Sylvia Densham, of Stoughton Drive North, died on 20 December 2009 hours after being admitted to the Leicester Royal Infirmary.
The great-grandmother had been bedridden at home waiting for a double hip replacement operation.
A narrative verdict was recorded at the inquest at Leicester Town Hall.
Coroner Catherine Mason said: "Had Mrs Densham been reviewed, on a balance of probabilities she would have survived.
"The elderly deserve the right to be treated with respect, dignity and care... this did not happen.
"And the care she received did not reflect her needs. She died from a condition that could have been prevented."
During the two-day inquest the court heard how a team of community nurses failed to communicate Mrs Densham's worsening condition to each other and to her GP.
Reports were not completed and assessments were not carried out often enough, the court was told.
She was finally admitted to hospital but died a few hours later. Some of her infected bedsores were 8cm wide.
Mrs Densham's widower, David, said: "For three-and-a-half months, virtually, she never had a shower and she never had a bath which was diabolical really.
"That's the kind of care you get from these care workers. They just don't care. Our children no longer have a mother, I don't have a wife. It's a great loss.
"It's permanently with you. I've got to live the rest of my life without my wife."
In a statement, Leicester City Community Health Service said: "We accept the coroner's conclusion that the care provided by our community staff fell short of expected standards and that they failed to assess fully and act on her deteriorating health by consulting with senior staff and communicating with Mrs Densham's GP.
"We have already investigated these matters in preparation for the coroner's court and taken action accordingly.
"However, we will now carry out a further review in the light of the evidence presented at the coroner's court and the coroner's conclusion."
Related Internet Links
The BBC is not responsible for the content of external sites.