Brother of Loughborough stab victim dies in car crash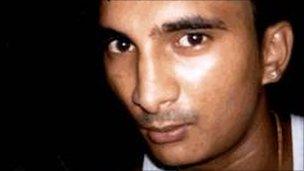 A Leicestershire family is mourning the death of their 20-year-old son in a car crash, less than three months his older brother died in a stabbing.
Rajdeep Das from Loughborough died when his car left the road on the way to Oldham in the early hours of Sunday.
A family tribute said he was "a wonderful loving son" and that he would be sadly missed.
His older brother Nitu Babu Das, 23, died on 26 July. Two people have been charged with his murder.
Rajdeep Das died when his car left the road near Knutsford services in Cheshire, coming to rest by the side of the motorway.
Leicestershire county councillor Jewel Miah said the family had been left devastated by Rajdeep's death.
"The father is a taxi driver and a strong man but he was totally devastated when I talked to him yesterday.
"His mother is in a very distressed state and family are trying to comfort her. To lose two sons in a matter of months is really hard for them to bear," Mr Miah said.
The family statement said: "Rajdeep leaves grieving parents, two younger brothers and an older sister, who love him dearly. Rajdeep will be sadly missed by all who knew him."
Related Internet Links
The BBC is not responsible for the content of external sites.