Merged Leicester library plan goes on show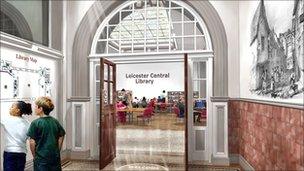 Plans for the merger of Leicester's two main libraries have gone on show.
The Central Lending Library in Belvoir Street will move into the Learning and Information Library in Bishop Street, saving the city £228,000 annually.
The city council said the £500,000 project would also result in a refurbished, lighter and brighter building with a better layout.
Details are on show at both locations for a month with the move due to be completed by early 2011.
Councillor Robert Wann, in charge of leisure and culture, said: "I am confident that we are making the right decision for our central library service at a particularly difficult time.
"Not only does this scheme enable us to make important savings, it also gives us an opportunity to reinvest in the central library.
"Change is always a difficult and unsettling thing, but I feel confident that when people get used to the new library, they will see the benefits for themselves."
The Bishop Street building will close in mid-December, with library services available in the Central Lending Library until it reopens.
Related Internet Links
The BBC is not responsible for the content of external sites.