Future of last airworthy Vulcan bomber 'in the balance'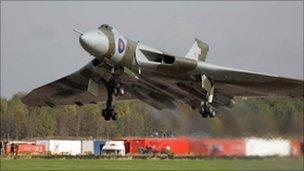 The future of the last airworthy Cold War Vulcan bomber is "on a knife edge", according to its owners.
Leicestershire-based Vulcan to the Sky Trust needs to hit its £400,000 funding target before Monday.
By Thursday morning, the charity had received £270,000, with trustees meeting later to discuss options.
Chief executive Dr Robert Pleming said XH558 "will follow Concorde into permanent retirement" if they cannot continue to meet maintenance costs.
The bomber, based at RAF Lyneham in Wiltshire, was introduced as part of the UK's nuclear deterrent during the Cold War.
It saw action during the 1982 Falklands War, when its crew bombed Port Stanley Airport, preventing its use by Argentine jets.
The Vulcan was withdrawn from service in 1984, and later restored at Bruntingthorpe aerodrome in Leicestershire.
The next 24 hours are "critical to the plane's survival", according to Dr Pleming.
He said: "Firstly, our thanks must go out to all who have contributed so far, some many times over, to our October appeal.
"However, we must be realistic and as of today, accept that the future of the project and the fate of XH558 is still very much in the balance - we are certainly now living on a 'knife edge'.
"Despite a healthy pick up in donations to over £30,000 a day since our appeal mailout hit doormats last week, it has now reduced to an average of less than £15,000 per day."
Dr Pleming said the charity now needed to raise more than £37,000 each day before Monday or the bomber will be grounded.
He added: "The likelihood would be XH558 would never ever fly again and the whole support team around her will be disbanded."
The money is required to meet the running costs of the trust during the winter, when no funds are raised from public displays.
These include the cost of renting the hangar, paying staff and maintaining the aircraft.
The trust hopes to keep the bomber airborne for two further display seasons, including the year of the Queen's Diamond Jubilee in 2012, which is also the 60th anniversary of the first flight of the Vulcan and the 30th anniversary of its role in the Falklands conflict.
It is also hoped the plane will perform a fly-past at the opening of the 2012 Olympic Games in London.
Related Internet Links
The BBC is not responsible for the content of external sites.