Defibrillator in former call box in Leicestershire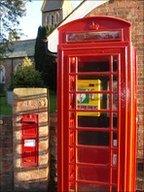 A heart defibrillator has been installed in a decommissioned phone box in a Leicestershire village.
All villagers and local ambulance staff have been given a number to call so the device in Carlton, near Market Bosworth, can be quickly accessed.
A defibrillator is used to restart the heart of a cardiac arrest patient.
Villagers worked with national charity, the Community HeartBeat Trust to raise £2,000 to buy a community Public Access Defibrillator (cPAD).
Conservative MP for Bosworth David Tredinnick is unveiling the facility on Friday.
The device is housed in a secure box with keypad access inside the telephone box, which was taken into ownership by the parish council.
Volunteers have already received training from local first responders.
Related Internet Links
The BBC is not responsible for the content of external sites.