No charges will be brought following HMP Ashwell riot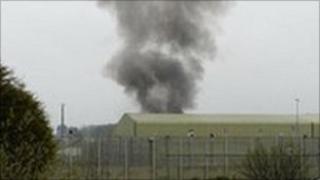 No charges will be brought in connection with a riot at HMP Ashwell in Rutland, the CPS confirmed.
Leicestershire Police began a criminal investigation after 75% of the facility, near Oakham, was damaged in a riot lasting 21 hours.
Prisoners smashed windows, set fires and threw rocks at staff during the disturbance at the Category C prison in April 2009.
No staff were injured but two prisoners received medical treatment.
Insufficient evidence
The riot saw specialist prison officers called to the jail to bring the situation under control and its perimeter was cordoned off by more than 100 police officers.
About 420 inmates were relocated to other jails, including Lincoln Prison.
But the Crown Prosecution Service (CPS) said its East Midlands Complex Casework Unit had examined evidence presented after the disorder but there was insufficient evidence to bring a charge of prison mutiny.
A statement said: "A comprehensive file of the evidence available was submitted by Leicestershire police following a thorough investigation.
"A realistic prospect of conviction would have required evidence of specific individuals engaging in actions intended to overthrow lawful authority.
Public inquiry
"In this case there were no reliable eyewitness accounts and no visual evidence such as CCTV footage to prove the allegations."
At the time of the disturbance, the Prison Officers Association (POA) called for a public inquiry and urged the Ministry of Justice to tackle the wider issue of prisoner classification.
The union claimed some inmates at HMP Ashwell had been wrongly downgraded from Category B to Category C prisoners in a bid to alleviate overcrowding at other sites and cut costs.
The Ministry of Justice had denied overcrowding was a factor in the riot.
The prison, built on a former Army camp, started as an open prison in 1955 and was converted to a Category C jail in 1987.