Waste medicine costs Leicestershire and Rutland NHS £6m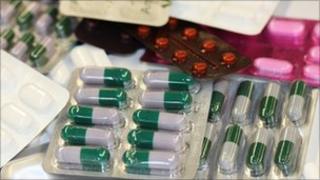 NHS health trusts in Leicestershire and Rutland said patients are wasting millions of pounds' worth of drugs each year.
They said the estimated cost of the waste last year, which includes repeat prescriptions that are collected but never used, amounted to almost £6m.
NHS Leicestershire County and Rutland and NHS Leicester City have asked patients not to stockpile medicines.
They have also urged patients to return any unused medicines.
Bob Wilson, of NHS Leicestershire County and Rutland, said: "Repeat prescriptions should not be requested unless they are needed and should never be stockpiled at home.
"Many people do not realise that unused medicines cannot be reused even if they are returned to pharmacies unopened, and across Leicester, Leicestershire and Rutland some patients are ordering and receiving medication that they don't even start to use.
"This growing problem means that significant quantities of medicines are being wasted and are costing the NHS millions of pounds."
Unwanted drugs can be taken to pharmacies to be disposed of safely.