Snow disrupts roads and schools in Leicestershire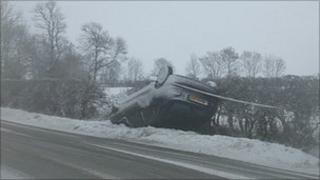 Snowy weather has been causing problems for drivers across Leicestershire, where more than 50 schools are closed.
Two lanes shut earlier on the M1 southbound have since reopened, but there continues to be disruption on some routes.
Conditions were earlier reported to be most hazardous on two stretches of the A511 at Copt Oak and Coalville.
Motorists are being advised to take extra care on the roads, especially on minor routes.
Matthew Lugg, from the transport department at Leicestershire County Council, said: "We've been out twice again during the night, we've done the whole of the precautionary network - that's 45% of Leicestershire's roads - twice.
"Because of the amount of snow in the Melton area we're calling out some of the farmer contractors we have to help us on the minor roads, so we've had a pretty busy night."
There has also been some disruption to East Midlands Trains' services due to freezing temperatures and staff shortages caused by travel difficulties.