Freezing weather continues to grip Leicestershire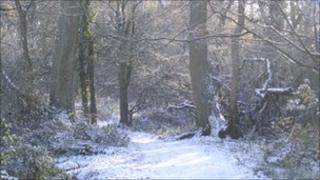 Driving conditions across Leicestershire and Rutland are expected to remain difficult.
Despite less severe weather, temperatures across the East Midlands are expected to remain below zero well this weekend.
Highways officials said they had enough grit for main routes but untreated roads should be used with caution.
Health and council bosses asked people to keep an eye on elderly or vulnerable people throughout the cold spell.
Less snow is forecast for the weekend and temperatures should not get as low as the -7C (19F) recorded on Thursday night.
Friday saw problems on the M1 near junction 20, delays on the A50 at Leicester and about 20 schools shut.
East Midlands Trains ran a revised timetable and some bus routes were disrupted.
Councillor Rory Palmer, the city council's cabinet member for adults and social care, said: "Weather conditions like this are difficult for all of us but can be potentially dangerous for older and vulnerable people.
"City council staff such as social workers, housing officers and meals on wheels providers, who are in regular contact with elderly and vulnerable people, will be visiting people as usual and making sure they are getting the services they need.