Two die and others badly hurt in Leicestershire crash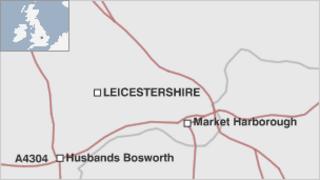 Two people have died in a road traffic collision in Leicestershire.
Another two people were seriously injured in the crash on the A4304 in Kilworth, near Husbands Bosworth, at 1345 GMT on Saturday.
The two-car collision happened near the junction of the A5199 and a police investigation is under way.
The names of the two victims, who were believed to be the two drivers, have not yet been released. The road was shut for five hours after the crash.