Leicester is hotspot for new supermarket approvals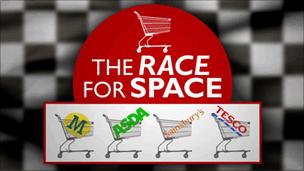 More planning applications by the 'big four' supermarkets were approved in Leicester recently than almost anywhere else in the UK, the BBC has found.
The city council gave the go-ahead to 12 applications in the past two years - the third highest of any authority, behind Glasgow and Birmingham.
The figures were obtained by researchers looking at the expansion of Tesco, Asda, Sainsbury's and Morrisons.
They include all types of new outlet, such as small "high street" stores.
Local authorities around the UK were asked how many planning applications had been successful in the two years from 1 November 2008, including those for existing buildings which had already been in use as shops.
Glasgow City Council approved the most with 22, followed by Birmingham with 15, and then Leicester.
Leicester City Council said: "All but one of these applications relate to existing retail premises, and are for changes to signage and shopfronts.
"Only one application was for a change of use to a supermarket. Under planning law there would be no reason to refuse these applications."
But market trader Steve Franks, who sells fruit and vegetables in the city, said the research findings painted a "gloomy picture".
He said: "I don't hold out much hope because they are going to tie up everything in the end. The only markets that will be about eventually are supermarkets. They'll kill us off.
"You can't blame people for using them really. There's no parking in the city centre, and when it's cold people go where it's convenient. But the supermarkets are more expensive than us and not as fresh."
He added: "I really can't see this place lasting much longer. I think if you go and talk to any other market trader, they'll tell you much the same."
Responding to the BBC's research, the 'big four' supermarkets said decisions about new stores were made in the interests of their customers, and had created thousands of jobs across the UK in recent years.
Sainsbury's said it had a strong track record of regenerating areas that had suffered from a lack of investment, while Asda said it offered "real choice" which had been welcomed by many communities.
Tesco said it worked with small, regional suppliers, and claimed supermarket growth continued at a steady pace, with no unprecedented change. Morrisons said it placed an emphasis on fresh food and was under-represented in many parts of the country.
Related Internet Links
The BBC is not responsible for the content of external sites.