Planning permission given for 3,000 homes in Leicester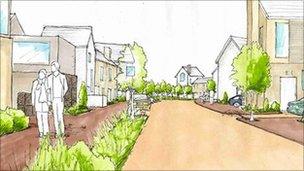 Up to 3,000 new homes are set to be built in Leicestershire after planning permission was granted by Leicester City Council.
The development at Ashton Green in the north of Leicester will include up to 900 rental and affordable homes, new schools and community facilities.
The city council said it aimed to start the development by 2013.
Councillor Abdul Osman from Labour-run Leicester City Council said the affordable homes were "much-needed".
He said: "The approval of this scheme paves the way for the development of much-needed family and affordable homes in the city and also the creation of new job opportunities.
"The proposals ensure the new development is planned to take into account the needs of existing communities nearby so they can also benefit from the public open spaces, bus networks, schools and community facilities."
The development, between Beaumont Leys and Birstall, has been designed by the council to help cope with population growth.
Ashton Green is part of a larger project to deliver more than 20,000 homes in Leicester over the next 20 years.
Related Internet Links
The BBC is not responsible for the content of external sites.