Son of missing Arthur Prosser speaks of 'nightmare'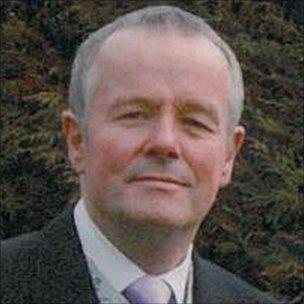 The son of a missing Leicester man said life has been a "bad dream" since his father disappeared.
Arthur Prosser, who has Parkinson's disease, has not been seen since he left his home on Saxon Street on the morning of 3 December.
After nearly three weeks missing, Mr Prosser's son Graham has launched a personal appeal for anyone with information.
The missing 67-year-old walks with a limp and holds one arm up to his waist.
He is about 5ft 9in (1.75m) tall, of medium build, and has grey receding hair, with some dark specks.
When he was last seen, he was wearing a pair of green army-style trousers and a distinctive dark green jacket with the outline of a white tick on the back.
He does not have any medication with him and failed to pick up his prescription from a pharmacy in Leicester, according to police.
His son said: "It's been three weeks now and I just want him home.
"I still feel I'm in a bad dream and that I'm going to wake up and dad will be back home.
"I want to make a personal appeal to anyone out there who knows anything about my dad's disappearance or for my dad himself to contact me or the police to let us know he is safe and well."
Leicestershire Police officers have been carrying out inquires around the local area and talking to the community to try to piece together Mr Prosser's movements.
Sgt Rod Randell, the officer leading the investigation, said: "It has been three weeks since Arthur was last seen by his family and I cannot begin to imagine what they are going through.
"We are working round-the-clock to find out where he is and hope that anyone with information about his disappearance will get in touch."
Related Internet Links
The BBC is not responsible for the content of external sites.