Dogs found hanged from Congerstone bridge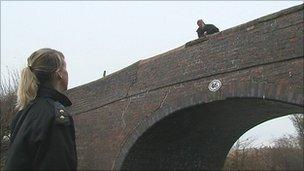 The hanging of two dogs found suspended from a village bridge has been described as barbaric by the RSPCA.
The dogs, described as "lurcher types", were discovered by a passerby in Congerstone, Leicestershire, on Thursday morning.
They were attached to a single rope which partly blocked the trackway, near Bosworth Road.
The RSPCA said it was not yet known whether the dogs were dead before they were hanged.
Insp Sheona Morley said: "I don't know why anyone would have wanted to have done this. The dogs were obviously well cared-for at some point, they were only young dogs.
"This was obviously a premeditated act of cruelty involving probably more than one person.
"Maybe the owner does not know, maybe the dogs possibly were stolen and the owner does not realise what has happened."
She added: "There is absolutely no excuse to treat any animal in such a barbaric way."
The dogs, one male and one female, were aged between 12 and 18 months and were wearing leather collars with no identification tags. The RSPCA said neither animal was microchipped.
A spokeswoman said the results of post-mortem examinations were expected within a few days.
Anyone with any information about the hangings is urged to contact the RSPCA or Leicestershire Police.
Related Internet Links
The BBC is not responsible for the content of external sites.