More details of revamped Leicester market unveiled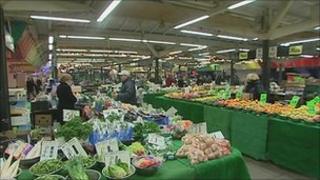 Further details of Leicester market's £600,000 revamp have been revealed.
The development's new food court and open public square will be called "Market Corner", said the city council.
It will host alternative stalls, such as arts and crafts, from Monday to Thursday, and will be used as a food venue on Fridays and Saturdays
Work on the scheme, which has attracted some criticism from stall holders, has already begun and is due to be completed by the end of March.
An original £9m makeover was shelved due to financial pressures on the council, which says the market needs to modernise to survive.
The revised scheme involves removing part of the roof to form a piazza area, with food and seating.
It will also include flexible gazebo-style stalls to "build on the success of recent food festivals".
Stallholder John McCormack said he felt the project would badly damage trade because "no-one would want to sit in the cold and rain and the wet and the snow in a cafe in a piazza".
But councillor Paul Westley has defended the plans, saying similar schemes in cities such as Bristol had been very successful.