Plan for 1,000 homes on airfield near Market Harborough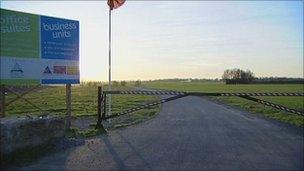 A development of almost 1,000 new homes could be built on an old airfield just outside Market Harborough.
Hallam Land Management and William Davis have asked Harborough District Council to grant outline planning permission for the new estate.
There are also plans for a hotel, a marina, shops, a school and a country park on the 57-hectare section of land which was sold about 10 years ago.
A decision on the application is expected in early 2012.
Opponents of the scheme have raised concerns over whether the location was actually suitable for so many homes and others said they were concerned about traffic.
Blake Pain, a Conservative member of Leicestershire County Council, said: "The traffic's already bad at peak times and that's going to get much much worse if a development of 1,000 homes is to take place up the road."
The developers were not available for comment.
Related Internet Links
The BBC is not responsible for the content of external sites.