Dog death inspectors appeal to anonymous caller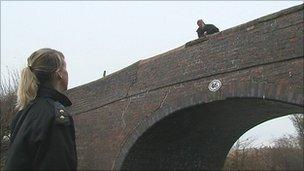 Investigators looking into the deaths of two dogs who were hanged from a bridge are trying to trace an anonymous caller.
The two lurcher-type dogs were found hanging from a bridge in Congerstone, Leicestershire, on 30 January.
RSPCA chief inspector Jim Lucas said they want the person who contacted them with key information to call back.
Mr Lucas said he has had calls from people as far away as Lancashire but no arrests have been made.
"It is always upsetting to see any form of cruelty but this sort of deliberate and premeditated cruelty is the worst sort," he said.
"We had contact from somebody with information about the incident and about who might be responsible - but (they) didn't leave a name - and we are desperate for that person to get back in touch."
He said the RSPCA will guarantee the caller anonymity.
The dogs, one male and one female, were aged between 12 and 18 months and were wearing leather collars with no identification tags.
Related Internet Links
The BBC is not responsible for the content of external sites.