Budget cuts in Leicestershire force pothole priority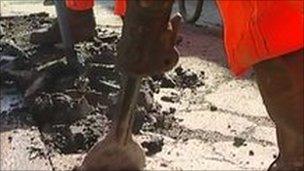 Road developments in Leicester will be put on hold as the city council copes with impending budget cuts.
Leicester City Council, responding to a BBC Freedom of Information request, said next year's budget would only cover urgent repairs, such as potholes.
A spokesman for the Labour-run council said: "There will not be enough to improve the network in the city."
Leicestershire County Council said there was enough money to deal with road repairs in the short term.
It said it believed it had the "best maintained roads of all county councils".
A spokesman said in the longer term there would be delays to road repairs if budget cuts continued.
The Conservative-led county council's budget has fallen from £17.9m for 2009/10 to an estimated £17.1m for 2011/12.
The city council's highways budget has dropped from £2m for 2010/11 to an estimated £1.86m for 2011/12.
According to BBC research, over the past three years, Leicestershire County Council has paid out almost £17,000 in compensation to individuals, relating to potholes and highway maintenance.
Leicester City Council said it had paid out about £10,000 in compensation claims over the same period.
The government announced last week it would make £100m available for councils facing larger than predicted repair bills after one of the coldest winters on record.
Related Internet Links
The BBC is not responsible for the content of external sites.