Roofing company fined £12,000 over asbestos error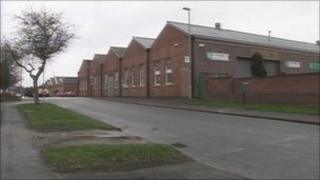 A roofing company has been fined £12,000 for causing asbestos contamination while carrying out cleaning work in a Leicestershire town.
Concept Roofing and Cladding of Hampshire was prosecuted by the Health and Safety Executive (HSE) after cleaning roofs in Market Harborough.
The company used a pressure washer on industrial roof tiles, causing asbestos fibres to be released.
An HSE spokesman said this method of cleaning was "wholly unsuitable".
A number of businesses in the Leicestershire County Council-owned units had to close for several weeks and the area had to be decontaminated at a cost of £500,000.
'Potentially carcinogenic'
Stephen Farthing from the HSE said: "Contamination was found in all 12 of the industrial units in Bath Street.
"Asbestos fibres were found down the sides of the walls, in the drains and on bus stops.
"Numerous members of the public and tenants were exposed to a potentially carcinogenic substance - asbestos fibres - and the HSE will always take these breaches seriously."
Concept Roofing admitted using a high-pressure washer to carry out parts of the cleaning and allowing a gutter to overspill.
The company was fined £12,000 and ordered to pay more than £22,000 in costs at Leicester Magistrates Court.