Highways worker hurt in Great Glen as car taken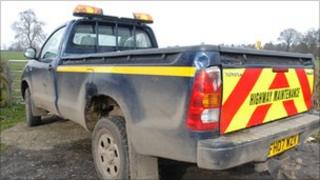 A highways worker has been seriously hurt as he tried to stop his vehicle being taken in Leicestershire.
The 37-year-old victim was working on the A6 in Great Glen on Wednesday morning when a man got into the marked Toyota pickup and started to drive off.
The worker tried to intervene but suffered injuries to his leg.
Police recovered the vehicle on Glen Road towards Newton Harcourt a short time later and are now appealing for witnesses to come forward.
The victim's injuries are not believed to be life-threatening.
Police said the incident took place just before noon on a busy section of road and the vehicle had its red lights flashing.
The suspect was described as being of chubby build, with short dark hair and wearing glasses.