How to get your music heard on The Beat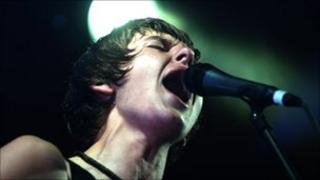 The Beat is a programme for fans of new music and those who like a bit of light entertainment on a Saturday night.
The show is presented by Dean Jackson, along with Emma Clifford and the Supreme Team.
It is broadcast on BBC local radio stations in the East Midlands from 1800 until 2200.
Dean Jackson said: "Hundreds of local musicians have had their material aired on the programme, which has a huge following in the region and beyond."
The Beat love nothing more than playing great new music of local origin. This applies to music of any genre. They are a very broad church.
As well as having your music played on The Beat, the team also frequently forward music on to the likes of Huw Stephens, Tom Robinson and others, resulting in a good deal of national airplay for local artists.
How do I get my tunes to The Beat?
The best way is to use the BBC Introducing uploader. Be sure to say where you are from to get the music directly to The Beat.
If your music is newly recorded, it is also worth sending an email to beat@bbc.co.uk to let the team know about it - but please do not attempt to send MP3s by email as they often get filtered out.
The benefits of using the uploader are:
Rapid delivery
Permanent storage in a secure area (we won't lose them or accidentally delete them!)
We can easily forward selected tunes to Radio One, 1Xtra, 6Music and The Asian Network for national airplay.
You could get a BBC music web page (perhaps not instantly)
Increasingly, the BBC is using music from this source for 'special projects' which you would want to be involved in
Alternatively, you can mail a CD to Dean Jackson, BBC Centre, London Rd, Nottingham, NG2 4UU. Please be sure to clearly label your CD and give a contact number
How do I get an interview on The Beat?
All interviews are based around good stories. This might be something that has just happened to you or something which is about to happen.
These stories have to be genuinely interesting to The Beat's listeners - so simply playing a forthcoming gig is not enough, unless there is a twist to it.
Interviews must come over as amusing or riveting tales; not just a bit of shameless promotion (which, being the BBC, would get us into real trouble!).
If you do have such a story (which may well tie in with a gig and release date) then Dean Jackson would love to hear it. The best way to deliver it is to e-mail: dj@beat.co.uk
Can we play a session please?
The Beat have one session per programme. Very occasionally they get to use the Maida Vale studios in London for a full electronic session. But the norm is for the session to be either acoustic or basic semi-acoustic.
Again, sessions are usually tied in to a story or event. It is normal for The Beat to ask to see or hear an example of your (semi) acoustic work before we book you in.
Again, requests for this should go to dj@beat.co.uk, explaining why it would be a good time to come in.
Where can I hear The Beat?
BBC Radio Leicester - 104.9FM and DAB plus online.
BBC Radio Nottingham - 103.8FM (Nottingham), 95.5FM & 1584AM (Mansfield) and DAB plus online.
BBC Radio Derby - 104.5FM (Derby & Burton-on-Trent), 95.3FM (Matlock), 96.0FM (Buxton) and online.
BBC Radio Lincolnshire - 94.9FM (Lincoln), 104.7FM (Grantham), 1368AM (Boston) and online.
Listen to the latest edition of The Beat on the BBC iPlayer.