Christ in the Centre in Leicester makes funding appeal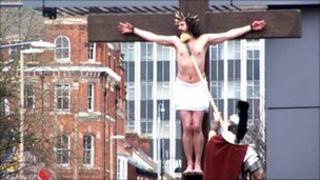 An annual re-enactment of Christ's Passion in Leicester is facing a shortfall of more than £17,000.
A reduced budget of £40,000 has been set for the 2011 event, but organisers said funding had been slower to come in than in previous years.
The city council had already withdrawn its funding but much of the rest of the cash is from churches and individuals.
However, chairman of the organising committee, Canon Barry Naylor, said he was confident the event would go ahead.
The depiction of the Easter story is expected to attract an audience of up to 10,000 people.
The event receives an annual grant from the Diocese of Leicester, but relies on donations to make up the remaining funding.
Canon Naylor said although the committee had substantially reduced the size of the event two years ago, there were still significant costs to consider, notably with staging, sound and security.
The presentation will start at St Peter's Square, before a procession down High Street, stopping in front of the BBC Big Screen on Humberstone Gate.
"This is certainly the biggest act of Christian witness in the city and county, we're often told this is the biggest act of witness in the whole country," the canon said.