Oakham Sainsbury's plan rejected by Rutland council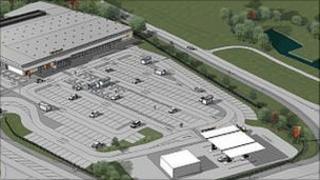 Plans for a major new supermarket have been rejected by Rutland County Council.
The 30,000 sq ft Sainsbury's store on the Oakham Bypass was turned down by a full meeting of the council on Monday.
Planning officers said the land was intended for industrial use and they were concerned by the impact of the store's out of town location.
Sainsbury's has said it is "considering its options" and remains committed to opening a new store in Oakham.
The store, including a 240-space car park, cafe, and petrol station would have created 300 full and part-time jobs.
'Extremely disappointed'
Councillors voted 10-8 to refuse the proposal, which had also been turned down by the planning committee last month, but acknowledged the plans had received high levels of support from people locally.
Robert Oxley, Sainsbury's regional development executive, said: "We are extremely disappointed with the decision, which has come about despite overwhelming public support and what we feel are flawed reasons for refusal.
"The business and employment allocation of the site has been in place for over 10 years without any progressive interest from developers, whilst the other sites in the town would have an adverse affect on traffic flow and are not big enough for a store to meet the main food-shopping needs of the community.
"However, we remain committed to Oakham and will now consider our options."