BBC Radio Leicester broadcast reflects city nightlife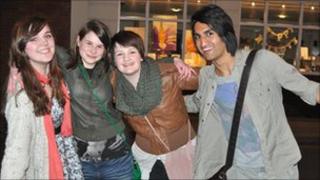 On Friday 1 April, reporters from BBC Radio Leicester broadcast a six-hour programme that aimed to uncover the realities of the city centre at night.
The live reports investigated the impact an estimated 40,000 visitors make to the city centre every Friday.
Partygoers, doormen and emergency workers were among those who gave their thoughts on the city after dark.
The programme also reflected the iniatives put in place which aim to keep visitors safe and happy.
You can listen again to 'One Night in Leicester' on BBC iPlayer.
City centre director Sarah Harrison said she was reviewing BBC Radio Leicester's broadcast as she prepared to make Leicester's bid for Purple Flag status in June.
The award rewards city centres who can prove they have successfully improved their reputation as a positive place to visit and work at night.
Ms Harrison said: "It's not really about having a faultless evening, there's bound to be incidents. What they judge you on is how you deal with it and we have so many initiatives in place, as [demonstrated in the radio coverage].
"We're very confident that we'll be awarded it," she added.