Radio Leicester giveaway: Kapil Dev Q&A session tickets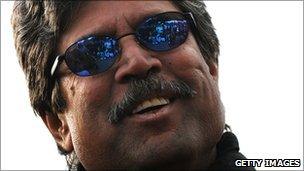 BBC Radio Leicester has 25 pairs of tickets to giveaway for a special question and answer session with Indian cricket legend, Kapil Dev.
The event will be held at Belgrave Neighbourhood Centre on Thursday 7 April from 1645 to 1800 BST.
To register for a pair of tickets call the station on Wednesday 6 April between 0700 and 0830 BST on 0116 251 1049 (calls are charged at standard geographic rate).
Entrants will be selected at random.
Registration is only by calling 0116 251 1049 and will close at 0830 BST. Winners will be selected at random. Calls are charged at standard geographic rate.
Only one application will be accepted per person. Multiple applications will not be eligible for selection. Please do not request tickets if you think you may be unable to use them.
Entrants who have secured a place will be contacted by phone on the number they provided when registering. We will only be able to notify you if your ticket application is successful. Successful applicants will be asked to collect their tickets from BBC Radio Leicester reception at 9 St Nicholas Place, Leicester, LE1 5LB.
If an entrant is unable to be contacted after reasonable attempts have been made to do so, the BBC reserves the right to offer their tickets to another randomly selected entrant.
This ticket giveaway is not open to employees, agents or contractors of the BBC, and/or any affiliate or subsidiary companies, or their immediate families or any other person connected or involved with the competition. The event organisers reserves the right to refuse admission.
Entrants must be aged 16-years-old or over. Children under the age of 16-years-old must be accompanied by an adult (i.e. 18-years-old or over).
You will need to make your own way to and from the venue. The BBC will not be responsible for any transport and accommodation expenses incurred.
The event organiser reserves the right to cancel this event and ticket process at any stage or change the programme if deemed necessary in its opinion, and if circumstances arise outside of its control. Should the event be cancelled or line-up changed, the BBC is not liable for any loss of money and expense incurred in travelling to the venue.
Only UK residents may apply. Tickets are free and cannot be resold. If you buy tickets from anyone they will not be valid.
BBC excludes all liability relating to the loss or delay of any entry or tickets.
BBC will only ever use personal details for the purposes of administering this ticket giveaway, and will not publish them or provide them to anyone without permission. You details will not be retained for more than 90 days. You can read more about the BBC Privacy Policy.