Loughborough drivers caught in mobile phone crackdown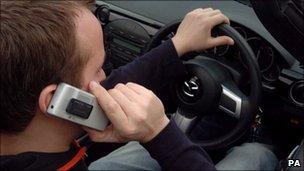 Leicestershire Police fined 31 motorists in four hours for using their hand-held mobile phones while driving.
Officers in Loughborough carried out Operation Balham for two hours on 18 March and two hours on 21 March.
The police said they were "not surprised" at the number of drivers that were stopped and issued with a fixed penalty notice.
During the crackdown, several other drivers were stopped for minor traffic offences.
Pc Derek Hearnshaw said: "Most of the drivers stopped felt ashamed and accepted their fixed penalty ticket with the promise of not doing it again."
More than 4,000 people have been caught using phones while driving in Leicestershire over the past two years.
In January, the police piloted a new scheme offering offending motorists a road safety lesson rather than points on their licence.
The force said further checks were planned for Loughborough in the coming months.
Related Internet Links
The BBC is not responsible for the content of external sites.