Leicester City Council vans park in disabled spaces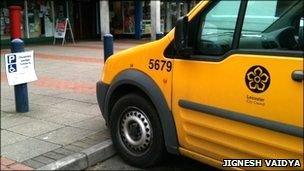 A wheelchair user has photographed two Leicester City Council vans parked in disabled spaces without displaying a blue badge in the window.
Jignesh Vaidya, a badge holder, arrived at his workplace to find council vehicles parked in unauthorised areas on two separate occasions.
He said he was "really angry" and took pictures of both vans as evidence.
A spokesperson from the authority said the van drivers' actions were unacceptable and apologised.
The blue badge scheme, introduced in the early 1970s, provides parking concessions for people with severe mobility problems throughout the UK.
Mr Vaidya said parking in his area was not normally a problem.
"I see many people abusing the system by using a blue badge which belongs to their family or friends.
"Some people park without a badge - that makes me more angry.
"But when you see your local authority, who are supposed to follow the regulations and they don't, it makes me really angry."
Although the road marking paint on the disabled bay in question had faded, the nearby sign clearly reads 'Disabled badge holders only'.
A Leicester City Council spokesperson said: "This is clearly not acceptable behaviour and we apologise for the inconvenience it has caused.
"Vehicle drivers have been reminded they should not park in the bays in any circumstances, and we will take action against any driver who is found to be doing this".
Related Internet Links
The BBC is not responsible for the content of external sites.