Scraptoft Hall 'in danger of collapse', campaigners say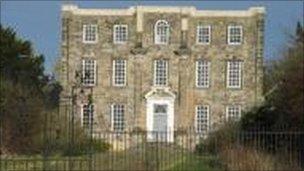 Campaigners in a Leicestershire village say a Grade II* listed building could collapse if urgent repairs are not carried out soon.
Scraptoft Hall in Scraptoft is an 18th Century mansion and was added to English Heritage's "at risk" list in 2007 after it fell into disrepair.
Nottingham-based developers AMK Planning bought the site for £2.8m and work was due to start last year.
But plans for a redevelopment are on hold due to lack of funding.
The 103-apartment project has planning permission but because of the recession, AMK Planning said it was struggling to secure funding for the site.
Scraptoft resident and campaigner Barry Gould said thieves had stripped the building of lead and metal and some of its original features.
"The building is slowly being stripped of all its assets," he said. "We are losing a vital asset to the village."
He said the mansion would soon not be worth saving.
In a statement, AMK Planning said: "We are committed to the development and are looking at the possibility of a joint venture, or even selling the land to another developer."
Related Internet Links
The BBC is not responsible for the content of external sites.