National Space Centre launches rockets for Yuri Gagarin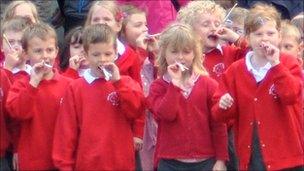 The National Space Centre in Leicester has celebrated the 50th anniversary of the first human space flight.
On 12 April 1961, Soviet Union pilot and cosmonaut Yuri Gagarin became the first human in space and the first person to orbit the Earth.
To mark the momentous occasion, schoolchildren and families from across the country gathered at the attraction to blow paper rockets into the air.
Centre staff said "it's been a date that we've been looking forward to".
Anu Ojha, director of space academy at the attraction, said people could also experience a "countdown and launch" during their visit.
"We have a replica of Yuri Gagarin's spacecraft, Vostok 1, where visitors can take the role of mission controllers and, if they get everything right, they'll go through a simulated countdown and launch experience," he said.
The Vostok 1 spacecraft blasted off on a Soyuz rocket from Baikonur at 0908 local time.
During his flight, which lasted 108 minutes, he completed one orbit of the Earth, travelling at 27,400 kilometres per hour.
On his descent, he ejected from the spacecraft and parachuted to the ground.
Dr Chris Welch, who chairs YuriGagarin50, said: "Space is an inspirational subject and human space flight in particular has motivated many young people to follow careers in science and engineering."
The day also marks the 30th anniversary of the space shuttle's first mission, launched by Nasa in 1981.
The National Space Centre, which opened in June 2001, is a not-for-profit charity.
Related Internet Links
The BBC is not responsible for the content of external sites.