Rare diamond ring makes £42,000 at auction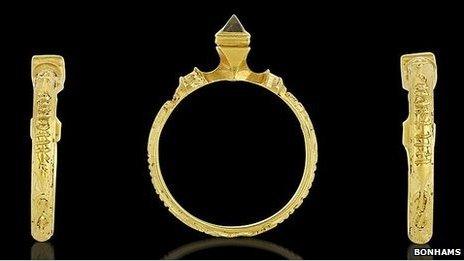 A rare 15th Century diamond ring found in Leicestershire has sold at auction for £42,000 - double its estimate.
The ring, which had a guide price of £15,000 to £20,000, was purchased by a private European buyer at Bonhams in London on Wednesday.
Metal detectorist John Stevens discovered the gold ring in a field close to Fleckney in July 2008.
Emily Barber from Bonhams said: "It's a wonderful find, an unexpected one, and a great result."
Diamonds were not commonly used during the 15th Century as craftsmen did not have the tools to cut them.
The crystal in the ring remains the same pointed shape as it would have been found in nature.
"It's very rare to have jewels from this period come up for auction, so when they do, they're competed over by collectors," Ms Barber said.
Mr Stevens said he would give half the profits to the owner of the land where the ring was found.
He is also planning a celebratory holiday and hopes to buy new metal detectors for two of his friends who were with him at the time of the discovery,
The ring's original owner is unknown, but Gothic script inscribed around the outside of the loop reads: "amour mi tien" [love keep me] in Old French.
Related Internet Links
The BBC is not responsible for the content of external sites.