Thousands expected at Christ in the Centre in Leicester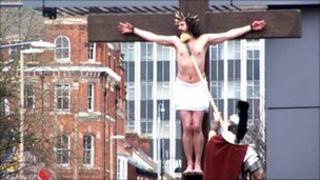 Up to 10,000 people are expected to visit Leicester on Good Friday for a re-enactment of the Easter story.
Other than the main role, the cast of the annual Christ in the Centre is made up from local amateur performers.
This year Walt Kissack will play Jesus, taking over from event director James Burke-Dunsmore, who has filled the role for the past six years.
The Sheffield-born actor and Christian said the part was "probably the biggest acting challenge for any actor".
"When I play any role I bring it before God in prayer, but playing Jesus is a little bit different," Mr Kissack said.
"Trying to make sense of him being fully human and being fully God at the same time is very difficult."
Mr Kissack has recently played Peter Sutcliffe in a film about the notorious serial killer due for release later this year.
The performance will start at St Peter's Square and includes a procession down High Street, with the finale in front of the BBC Big Screen on Humberstone Gate.
The event has been staged in the centre of Leicester since 2003.