'Dangerous trees' to be replaced in Leicester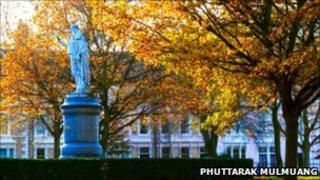 A £20,000 scheme to cut down "dangerous trees" on a Leicester street is under way.
The 10 trees, which line the city centre's New Walk, are being removed because they are dying or diseased.
Leicester City Council said the trees, which have all been surveyed by experts, could pose a danger to pedestrians in the area.
New trees will be planted along the walk, which was designated as a conservation area in 1969.
Adrian Russell, director of environmental services at the city council, said they would keep the felling to a minimum.
"I will be disappointed myself to see the trees come down but we will be planting new ones to replace them," he said.
"You have to accept that some of the trees have reached the end of their life.
"In the last three years we have planted more than 14,000 trees in the city, so we are very much in the business of planting trees, not removing them."